"WHO'S WEARIN' THE PANTS, NOW!"
The unwavering love of two sisters and their transformative journey drives "The Color Purple," the 2005 award-winning musical that is now playing in an exuberant and richly textured Lili-Anne Brown-directed revival at Drury Lane Theatre. The musical, based on the Pulitzer Prize-winning book by Alice Walker and the classic Warner Bros./Amblin film, was adapted for the stage by Marsha Norman, with music and lyrics by Brenda Russel, Allee Willis and Stephen Bray.
Having lived a lifetime before her 14th birthday, Celie (Eben K. Logan in an exhilarating, emphatic performance) is the emotionally torn and abused young girl at the center of the story. Suffering the unfathomable effects of incest and the loss of her two children, Celie attempts to protect her sister Nettie (a sparkling turn for the talented Kyrie Courter) from a similar fate. Forced into marriage and a life of servitude to the overbearing Mister (Melvin Abston at his chilling best), Logan's Celie is an emotional outcast, resigned to the hopelessness around her and unable to imagine anything will change.
Mister's son Harpo (a solid role for Gilbert Domally) irks his father by choosing to marry the feisty, head-strong Sofia (a commanding Nicole Michelle Haskins) against his father's wishes. As time passes, Harpo feels he may have made a mistake and seeks advice. When Celie sides with Harpo on how to get his way with her, Haskins' Sofia delivers a spirited version of the soulful anthem "Hell No!" The two women form a bond as Harpo decides to leave and build a juke joint, which is where he meets Squeak (the adorable dynamo Melanie Loren).
And when Shug Avery (the smoldering Sydney Charles) comes to town in need of some attention from Mister, she turns to Celie for comfort. After things light up with "Push da Button," Shug becomes more than an ally to Celie and sets her on a new path of discovery in the evolving story of her life away from the torment of the past.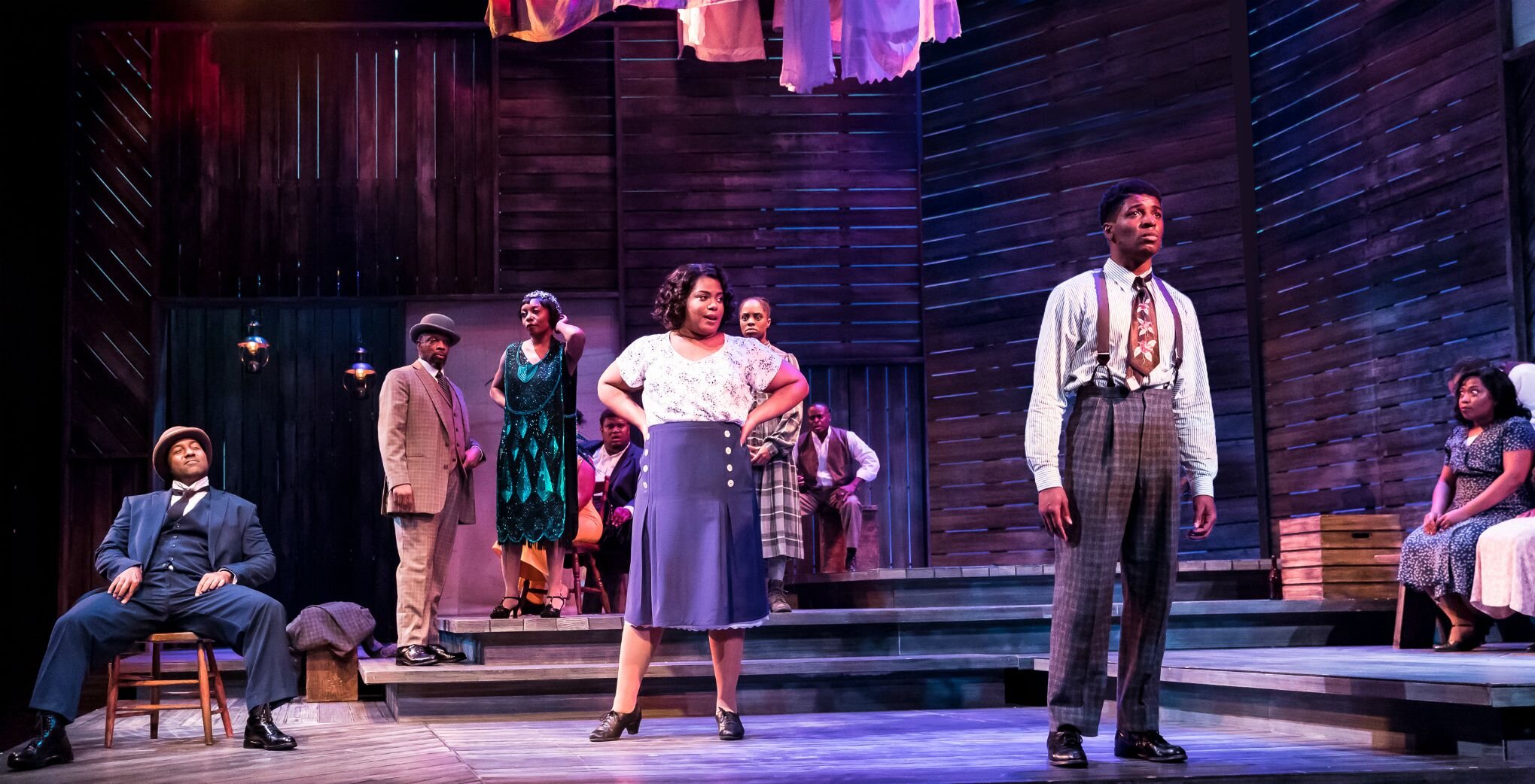 The talented company falls under the musical direction of Jermaine Hill and choreographer Breon Arzell. The rousing production numbers include: "Mysterious Ways," featuring Lorenzo Rush, Jr. (Preacher/Ol' Mister) and the spry trio of Adhana Reid (Olivia), Camille Robinson (Jerene), Alexis J. Roston (Doris) who serve as nascent narrators of story; "Brown Betty," "Shug Avery Comin' to Town"; "African Homeland"; "The Color Purple"; and, "Miss Celie's Pants," that answers the question: "Look who's wearin' the pants now!"
Brown, who has had a matchless run of successful directing projects in Chicago and elsewhere, has amassed another top-flight creative team for her first show at Drury Lane. Scenic designer Arnel Sancianco has fashioned a rustic, versatile, multi-level period set that is enhanced by Paul Deziel dynamic projections and lighting by Cat Wilson, and that serves as a perfect setting for Samantha C. Jones striking costumes, which preserve the historical traditions of the time. Moving and uplifting in its spirit, Drury Lane's production of "The Color Purple" is a joyous celebration of faith, perseverance and independence.
PHOTOS|Brett Beiner

DRURY LANE THEATRE
Presents
THE COLOR PURPLE
through November 3, 2019

100 DRURY LANE
OABROOK, IL
(630) 530-0111

WEBSITE
TICKETS

For more reviews, visit: Theatre In Chicago