"Love will break your heart. Love will break your heart in two." So goes the song at the opening of the David Grieg and Gordon McIntyre play, "Midsummer (A Play with Songs)," igniting a fascinating and absorbing exploration of two people searching for meaning and fulfillment within a touching love story set during the summer solstice in Scotland.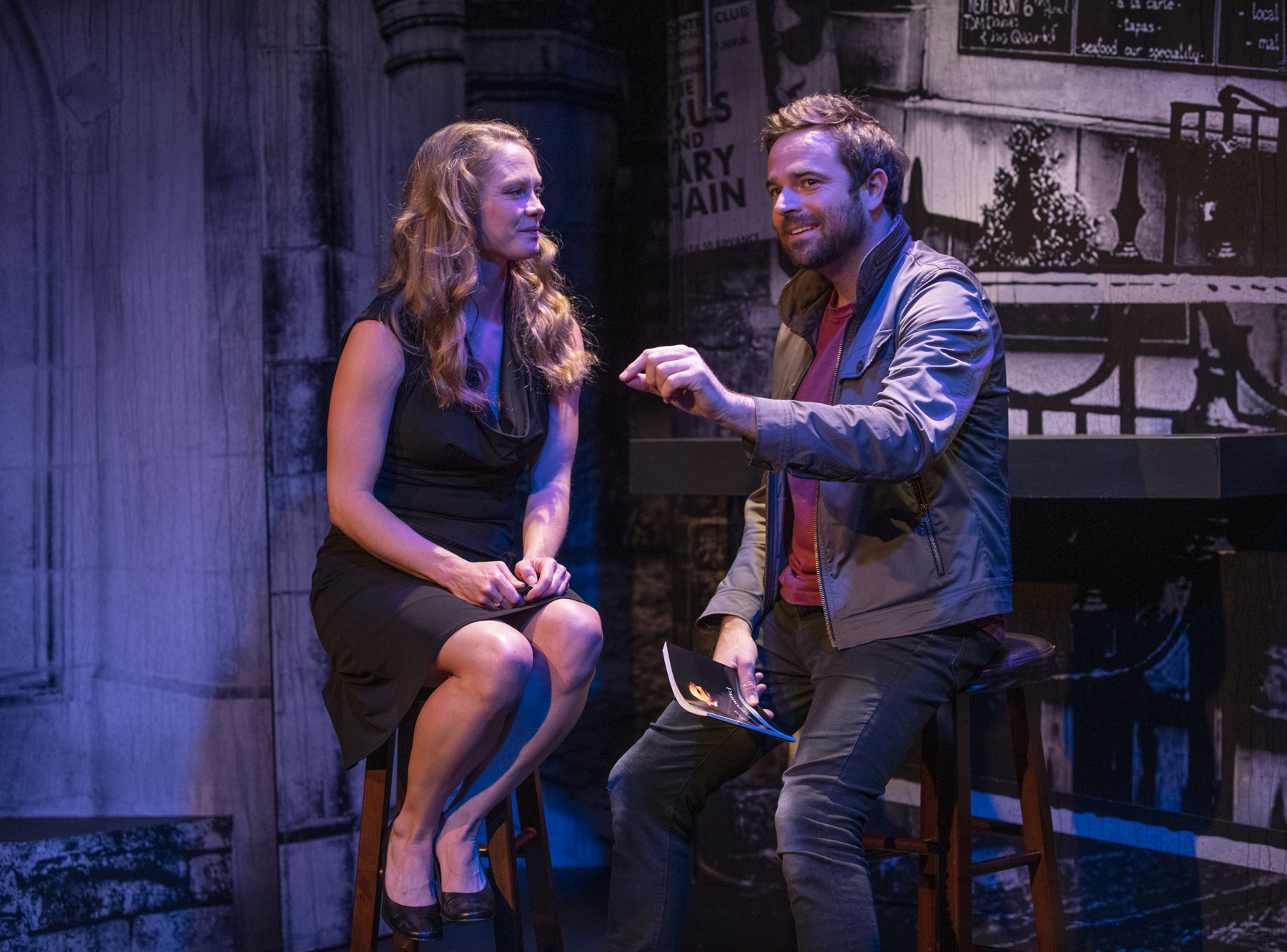 The paths of the two central characters—Chaon Cross (Helena) and Patrick Mulvey (Bob) in commanding, multi-layered performances–intersect in a bar in Edinburgh. Both nervously wait for someone else. For Helena, it is another failed liaison with her lover. She knows she deserves better, but has been stuck on the bum side of a bad relationship. The free-wheeling Bob faces some badness of his own. Despite his obvious charm and cat-like ability to land on his feet, the local underworld boss and his cronies have Bob firmly in their sights for not paying a debt.
A bottle of wine is shared. A proposition made. It's clear that chemistry smolders between these two, and it's just a matter of time before spontaneous and unbridled passion explodes—the kind of night that compels you to have a frank conversation with a body part on the way home or sing a song about your hangover in the morning.
Derailed in the heat of the moment presents only part of the problem. Their failure to individually keep up with life's responsibilities thrusts them back together and becomes the often hilarious central section of this piece—a series of missed opportunities, running in the rain and heart-warming confessionals—that are exquisitely written and staged.
In the relative close quarters of Greenhouse Theater's Downstairs Main Stage, director Randy White has created an astounding level of intimacy between Cross and Mulvey that is fueled by the accomplished actors' superior technique—the script has neither character designations or stage directions— and their extraordinary presence to shape each other's stories with multiple characters adding depth and humor. These characters and the virtual abandonment of the fourth wall allows the pace of the action to throttle forward effortlessly with a full range of dialogue and exposition, often simultaneously.
Playing out in one 90-minute act on a Mark F. Smith set designed with a few surprises serves the action extremely well when combined with Anthony Churchill's sound and projection, lighting by Brandon Wardell and Ellen MacKay costumes. "Midsummer" is a tender, emotionally fulfilling work about the importance of focus in our lives and possibilities of finding ourselves through our love for others.
PHOTOS|Michael Brosilow

GREENHOUSE THEATER CENTER
PROXY THEATRE
Presents
Midwest Premiere
MIDSUMMER (A Play with Songs)
through October 6th

2257 N. Lincoln Ave.
(773) 404-7336
WEBSITE
TICKETS

For more reviews, visit: Theatre In Chicago