PICKSINSIX Review: The Originalist
A FASCINATING, PROVOCATIVE EVENING OF THEATRE
Firing on all cylinders ... John Strand's The Originalist is a richly-complicated exploration of The Honorable Antonin Scalia, showcasing a superb performance by Edward Gero. The Asolo Repertory Theatre|Arena Stage|Pasedena Playhouse production, directed by Molly Smith with Associate Director Seema Sueko, also features fine performances by Jade Wheeler and Brett Mack. The Originalist premiered in March 2015 at Arena Stage in Washington, and then at Asolo and Pasadena in January and May 2017 before a return engagement in Washington last summer. This production is currently firing on all cylinders, from all chambers, and at least one rifle range, at Court Theatre through June 10th.

Heated discussions ... I will leave the historical and legal commentary regarding the arc of the discussions in dialogue to the scholars in those disciplines. What I will say is that the heated discussions between Scalia, the late Supreme Court Justice and Cat (Wheeler), a Liberal (capital "L") law clerk and the Conservative (capital "C") Brad, a recent law school graduate unwind and expose an array of the major positions in his judicial career. This is a fascinating, provocative evening of theatre!
Always right ... Scalia was a colorful portrait in complexity. An exceptional student - he admits to being "only wrong once" - Scalia lived by the tenet that rulings are to be made "on law, not emotion." Brilliant, articulate, exasperating, and described as a "monster," which he took as a compliment, Scalia was a self-described "shin-kicker" and a bit of a "contrarian." In the political spectrum, Scalia was convinced that strong opinions, thoughtfully and constructively presented, are of vital importance. He was respected by his peers on the Court, most notably Ruth Bader Ginsburg, even as they considered his opinions flawed. In his own estimation, Scalia was always right. Always. Except for that one time.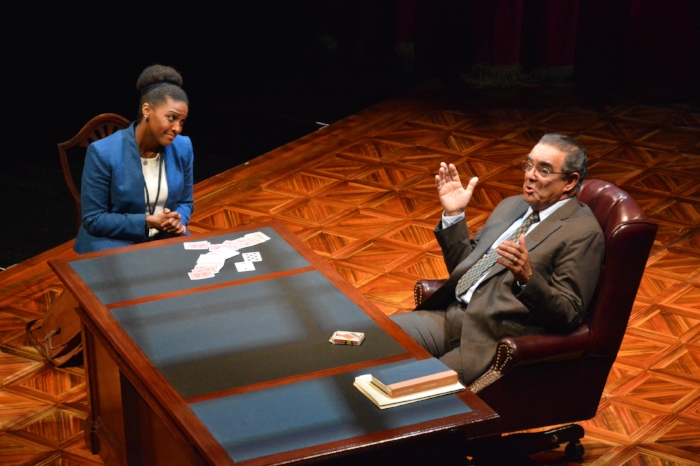 Outspoken, determined and controversial ... Strand has artfully fashioned a story in and around Washington, D.C. during the 2012-2013 Supreme Court term, which seems like a very long time ago politically. This timing allows for Scalia to extoll and vehemently defend his positions while at the same time exposing the more deeply religious, family man who appreciated Shakespeare and opera, had a keen sense of humor, and an intensely competitive spirit. As an originalist – one defined as a defender of the literal interpretation and principles of the U.S. Constitution as the foundation of our democracy – Scalia was outspoken, determined and controversial. In his interchanges about court actions, we see through Scalia's lens that it is as important to understand and respect opposing opinions as it is to defend our own.
A conversation starter ... This production is a conversation starter as evidenced by the comprehensive program notes, interviews and programming schedule that Court Theatre has developed over the run of the show.
The takeaway... Don't waste your time in the "wishy-washy" middle. Take a stand. Go for the jugular. Be respectful, but set your sights on the bullseye every time.
CAST PHOTOS|Gary W. Sweetman
EDWARD GERO|C. Stanley Photography

ASOLO REPERTORY THEATRE
ARENA STAGE
PASADENA PLAYHOUSE PRODUCTION
THE ORIGINALIST
COURT THEATRE
through June 10th
WEBSITE | TICKETS
(773) 753-4472

For more reviews, visit: Theatre In Chicago
CONVERSATIONS PODCAST: Season 3 Episode 10 (Originally Posted May 30, 2018) Award-winning actor Edward Gero joined the conversation to discuss his portrayal of Supreme Court Justice Antonin Scalia in John Strand's The Originalist during the Chicago run at Court Theatre. The compelling and provocative Asolo Repertory Theatre, Arena Stage, Pasadena Playhouse production is directed by Molly Smith with Associate Director Seema Sueko.