PICKSINSIX Review: AVENUE Q
FAST-PACED, LAUGH-OUT-LOUD HIT!
Far-out puppets... AVENUE Q, that bawdy, irresistibly appealing three-time Tony Award-winning Broadway musical about an out of the way New York City neighborhood where far-out puppets and humans alike face life-changing situations, is right back where it belongs at the Mercury Theater. L. Walter Stearns directs a seasoned company of top returning and new talent in a fast-paced, laugh-out-loud hit!

Adult-themed musical... There are more than a few reasons that AVENUE Q had a six-year run on Broadway, can still be seen Off-Broadway and in major productions around the country, of which this is certainly one. The neighborhood is full of lovable and often extremely inappropriate puppets whose take on everything from racism, sex, gender issues, and internet porn have made this adult-themed musical sure-fire, head-bobbing fun.
Power of giving... Whether you choose to watch the puppets or their handlers - and there is a lot of mischievous handling going on - there is so much to see, hear and enjoy. At the center of the story of Princeton's quest to find his purpose in life is the touching love story that evolves with Kate Monster whose goal is to establish a school for monsters. Along the way, Princeton and Kate learn from their neighbors about life, love and the power of giving, proving that when you have a puppet in your hand, you can get away with a lot of things.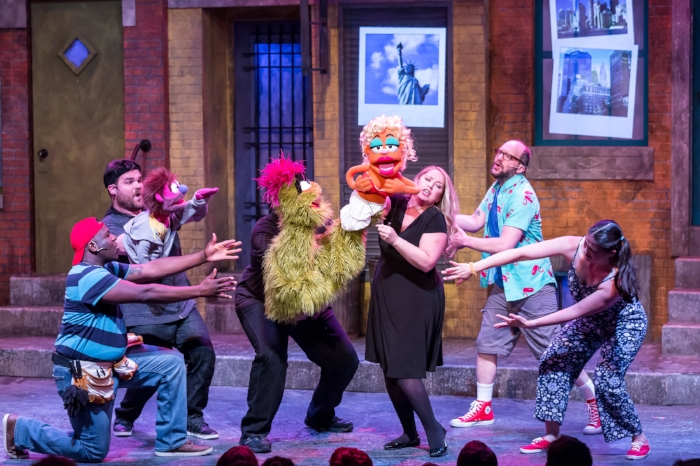 Delightfully endearing... This production is a bit of a renaissance - with a few carefully chosen script enhancements - of the one that flourished at the Mercury for seven months and 169 performances in 2014. Stearns and Musical Director Eugene Dizon have now assembled a top-flight ensemble around the delightfully endearing return performances of Jackson Evans (Princeton) and Leah Morrow (Kate Monster). Dan Smeriglio is hilarious in his return in the split roles of Nicky (with Jonah D. Winston, who is also a perfect Trekkie Monster) and Bad Idea Bear (with Stephanie Herman, who splits as the salacious Lucy and Mrs. T). Rounding out the superb multi-talented cast are David S. Robbins (Gary Coleman), Christian Siebert(Rod), Matthew Lies(Brian) and Audrey Billings (Christmas Eve).

Subtly nuanced additions... The all-star creative team includes Broadway veteran puppet designer Russ Walko whose work has come to life with the imagination of Rick Lyon, creator of the original Broadway puppets (and Broadway company cast member) who worked extensively with the Chicago cast during the rehearsal process. With Lyons' subtly nuanced additions, choreography by Kevin Bellie, the picture-perfect set and state-of-the-art digital elements by set designer Alan Donohue, video design by Max Maxin IV, lighting by Dustin L. Derry, sound by Carl Wahlstrom and Rachel Boylan's costumes, this high-octane AVENUE Q is running on all cylinders.
One naughty night out... Mercury Theater Chicago is again collecting for Season of Concern, an organization that has raised hundreds of thousands of dollars from generous artists and theater patrons to benefit people in the entertainment industry who are experiencing health-related emergencies and medical issues. There is an opportunity during the show when one could make a substantial contribution to support this worthy cause, so if you are planning only one naughty night out this summer, find your purpose on AVENUE Q.
PHOTOS|Brett A. Beiner

MERCURY THEATER CHICAGO
Presents
AVENUE Q
through September 9th
3745 N Southport Ave
Chicago, IL ‎60613
TICKETS: 773 325-1700
WEBSITE
Listen to our June 18th CONVERSATION with Leah Morrow and Jackson Evans
For more reviews, visit: Theatre In Chicago