PICKSINSIX Review: WE'RE ONLY ALIVE FOR A SHORT AMOUNT OF TIME
"LIFE IS A CABARET, OLD CHUM!"
Music-infused memoir… What part of us do we leave behind when we are gone? What percentage of each of our parents do we possess? And, how do we process the intrusion of their influence, and celebrate it, at the same time? These are just a few of the things that the ingenious David Cale is unpacking about his life in his music-infused memoir "We're Only Alive for A Short Amount of Time" now playing in its world premiere at the Goodman Theatre.
Astoundingly present… Early on, Cale recalls his blossoming boyhood infatuation with Liza Minnelli and how he persuaded his mother, Barbara, to lie about his age and take him to see the film 'Cabaret'. He was 13. Afterward, over lemon meringue pie and now channeling his mother, she admits feeling closer to him at that time than at any other in her life. You can actually imagine the woman there, telling her own story, feeling her frustration and love. It is one of many searingly poignant moments throughout the wide arc of this work in which Cale is astoundingly present, playing multiple, interchanging roles in a sort of stream of consciousness cabaret all his own.
Stripped away ambition… With a resonant score and lyrics that fit seamlessly throughout, Cale explores his family life in Luton, England, a factory town 30 miles north of London known at the time as a hat design and manufacturing center. According to Cale, growing up in Luton could lead to a dead-end proposition in the factories that stripped away ambition, a fate he was determined to avoid. His father, Ron, was the son of the owner of the major hat factory. When Ron catches Barbara's eye, she has already risen beyond her social status to become a hat designer for a competitor. When they marry, Barbara moves to the family business and an unsatisfying supervisor position on the manufacturing line. Then, after she gives birth to David, and three years later, his brother Simon, his mother's career aspirations flicker and dim.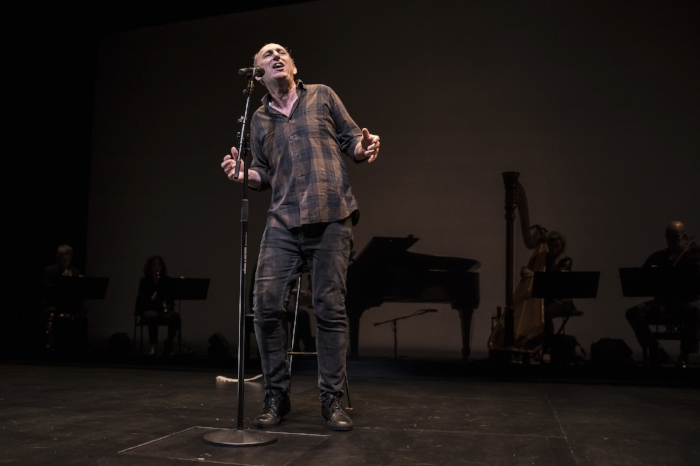 The birds return… The young David is a tender, nurturing soul with an interest in birds and animal care. He creates his own operation taking in and expanding his aviary with the help of his parents. He learns that if allowed to fly free, the birds he cared for return on their own, a strong metaphor for the overall piece. He is lovingly protective of his younger brother Simon. Through fascinating monologues and musical interludes, Cale introduces us to Luton, his parents and the devastating events that change his life forever.
Multi-layered characters… The haunting and lush score, co-written with and arranged by Matthew Dean Marsh, is ever-present yet leaves Cale isolated and powerfully alone on stage much of the time. Director Robert Falls allows no distractions to impede the 90-minute piece unlocking rich, earnest and multi-layered characters from Cale's fruitful and engaging imagination.
Sultry mood… Kevin Depinet's minimal setting is highlighted by antique birdcages and model planes aligning with Jennifer Tipton's lighting. Marsh (Piano) leads a quintet featuring Dave Belden (Viola), Michelle Campbell (Harp), Desiree Miller (Cello), Jered Montgomery (Trumpet) and Anna Najoom (Clarinet) that contributes to the sultry mood of the piece, connecting past to the present with a glorious revelation. If 'Life is a Cabaret, Old Chum!', you will never see a more uniquely inspiring performance.
PHOTOS|Liz Lauren

GOODMAN THEATRE
Presents
We're Only Alive for A Short Amount of Time
Written and Performed by David Cale
Directed by Robert Falls
through October 21st
312.443.3800
WEBSITE

For more reviews, visit: Theatre In Chicago