"HERO HAS BEEN CALLED TO SERVE!"
An ageless struggle... The lyric voice of the Oldest Old Man rings true when he confronts Penny about the reasons for Hero to join the Confederate cause early in Part 1 of the Chicago premiere of Suzan-Lori Parks' epic Father Comes Home from the Wars (Parts 1, 2 & 3) directed by Niegel Smith. With all the passion of one who understands an ageless struggle for a cause greater than himself, he emphatically pleads "Hero has been called to serve!" It is a complex and conflicted decision that Hero alone must make in this dark and sullied era of our nation's history.

No common ground... It is clear from Hero's journey that we are today no better connected together than 150 or 200 years ago. Our culture, so often portrayed in only black or white, seems to have no common ground. There is a reason to hope that Ms. Parks will help to heal the open wounds that her glorious work exposes so well, with so much passion, humor and at a tempo that makes us lose ourselves in the telling and our deep sense of regret and despair.
The heroic myth ... You will be both rewarded for your time and well-prepared for the next six-parts of the story which are in development now from an astoundingly original playwright who is the first African-American woman to win the Pulitzer Prize for Drama. Decades from now, all this will certainly be a commanding challenge for any theater company to play in repertory and one that is already highly-anticipated – the heroic myth – an epic journey of intersected characters and generational transformations as the title suggests. In the meantime, we are fortunate to have an extraordinary ensemble on full display at Goodman in a stirring production worthy of the material.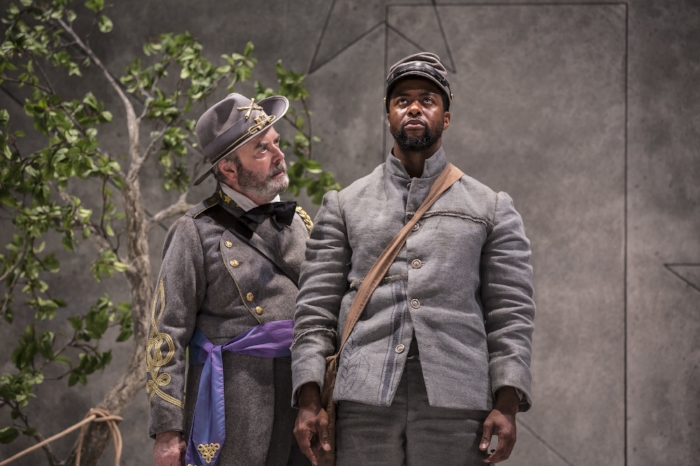 Challenging loyalty... Be sure to pay particular attention to the Homeresque opening monologue artfully delivered by the Leader(Jacqueline Williams) that sets the stage for all that follows. Struggling with the impact of slavery and all of the ideals restricting freedom and challenging loyalty, there is one particularly astonishing moment in Part 2 when the Colonel(an icy William Dick) revels in the thrill of human ownership and in so doing, sucks the air out of the room.
The wrong side of history... With the war drawing closer to home, the conflict of slaves conscripted to fight on the wrong side of history is the pivotal decision Hero must make in Part 1. Part 2 is set on a hot afternoon in a shady grove with the Colonel, Hero and a wounded Union prisoner. Part 3, aided by a Greek chorus of runaways and a human dog, unravels the futility of the conflict and lays forth the inevitable, sordid human costs of war.
Highly-charged... It is the riveting, highly-charged performance of Kamal Angelo Bolden's Hero that churns mightily throughout while Jaime Lincoln Smith's resonate Homer and the impassioned performance of Aimè Donna Kelly as Penny are capitivating. Dick and Demetrios Troy's Smith propel Hero's journey in Part 2 and provide the most chilling and acerbic views of what it is to be white, own property and place race at the center of the argument. Watching this unfold and leading the way is the Musician, a superb crossover performance from Chicago blues artist Melody Angel. The exceptional cast includes Ernest Perry, Jr (Oldest Old Man) and BrittanyLove Smith, perfect as man's best friend, of which there are few in this darkly rich introduction to what is sure to be a much-talked-about epic trilogy... only at Goodman through June 24th, and then the journey continues elsewhere.
PHOTOS|Liz Lauren



Goodman Theatre
Presents
Father Comes Home from the Wars (Parts 1, 2 & 3)
Written by Suzan-Lori Parks
Directed byNiegel Smith
through June 24th
312.443.3800
WEBSITE

For more reviews, visit: Theatre In Chicago