PARAMOUNT'S GUTSY 'NEWSIES' SEIZE THE DAY!
At the turn of the century, headlines and newsboys sold newspapers. An estimated 10,000 children in New York City alone–mostly tough, street-wise ruffians just getting by–worked long days in neighborhoods and on street corners to hawk the "papes" for the Pulitzer and Hearst empires. And in 1899, when those monopolies decided to increase costs to offset slumping sales, the newsies organized.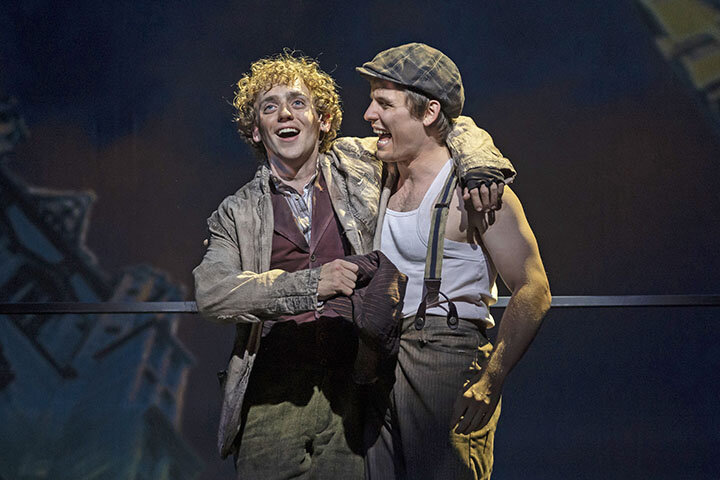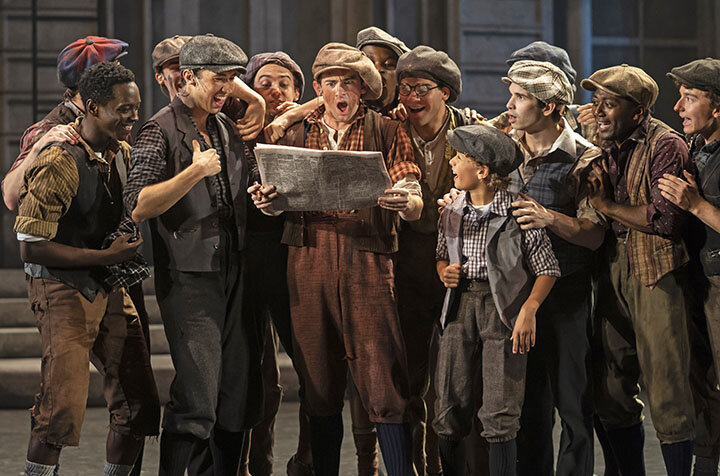 The real-life David-and-Goliath clash resulted in the newsboys strike that became a front-page story all its own and stymied operations throughout the city for two weeks. That's the inspiring backstory for Disney's "Newsies," now playing in the high-octane Jim Corti-directed revival at Aurora's Paramount Theatre that delivers a rock 'em sock 'em cast and sweeping spectacle in a high-stepping musical delight.
With music by Alan Menken and lyrics by Jack Feldman, the book by Harvey Fierstein centers on a class-conscious love story between union organizer/artist/westward dreamer Jack Kelly and critic/reporter Katherine Plumber–Alex Prakken and Justine Cameron in sparkling performances–and the challenge by publisher and robber-baron Joseph Pulitzer (a delightfully stern Bret Tuomi) to put the squeeze on the youth labor force of the day.
Even as Pulitzer promises there will be a real-life lesson in economics when he is through with Jack and the brotherhood who look up to him, the heart of Corti's big stage musical treatment is the vibrant energy–and extraordinary precision–of the gutsy newsboys who, individually and collectively, have a charm all their own. Machine-like in their execution of the lighter-than-air choreography of Joshua Blake Carter, flawless featured performances abound.
It all plays out on the gritty streets and roof tops of New York on a magnificent William Boles set, richly illuminated by Victoria Bain with ruddy Jordan Ross costumes, and the youthful and energized cast of more than 30 singing and dancing to the music of conductor Tom Vendafreddo's 12-piece orchestra.
The rich score includes "Santa Fe," "The World Will Know," "King of New York," and "Seize the Day," and with dynamic choreography and sizzling performances, Paramount's "Newsies" is not to be missed!
PHOTOS|LIZ LAUREN

PARAMOUNT THEATRE
Presents
DISNEY'S
NEWSIES
THE MUSICAL
through October 20, 2019
23 EAST GALENA BLVD.
AURORA, IL

WEBSITE
TICKETS
(630) 896–6666

For more reviews, visit: Theatre In Chicago